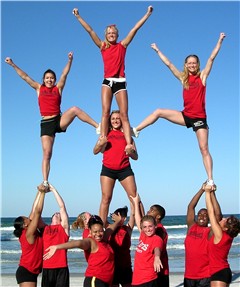 April 5, 2004
Cheerleaders Place at Nationals
Lewis University Cheerleaders captured a 5th place finish at the National Cheerleaders Association (NCA) College Nationals this past weekend in Daytona Beach, Florida.
The Flyers finished 5th in Preliminaries on Thursday with a near flawless routine, securing their place in the Finals with a score of 7.62 out of 10 possible points.
"We needed to hit a clean routine on Friday to put us into the top three", said Coach Carla Johnson.
Carla accompanied the team to Florida, while Cheerleading Coordinator, Suzanne Stamm, who is on maternity leave, cheered the team on from home.

None the less, the Flyers finished strong with a 5th place trophy in their division after Finals, with a score of 7.35 in Small CoEd Division 2. Congratulations!!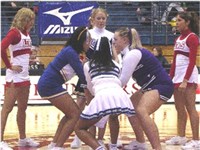 Click for All-Star Pictures!
February 1, 2004
Clinic All-Stars Perform
Congrats to all the 2003 Lewis University Christmas Cheer Clinic All-Stars invited back to Lewis to perform their Cheers or Dances. Clinic All-Stars ranging from pre-school to High School performed at Women's and Men's Basketball games on January 8th, 15th and, Januray 29th, 2004. Click on the picture to left to see them in action!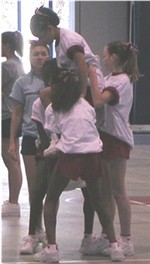 Click above Pic for Pictures
December 30, 2003
Lewis University Cheerleaders
Christmas Cheer Clinic
With over 200 participants, the girls and guys from LU lead a fun, exciting and successful Cheer Clinic Saturday, December 20th! Besides all the cheerleading fundamentals, dances and stunts taught at the clinic, participants of all ages worked with their LU cheer-buddy to learn a personalized floor cheer designed just for them! Congrats to all our Clinic Best Jumps Award Winners and Clinic All-Stars teams and individuals chosen to come back and perform on January 8th and 15th. Hope you had as much fun as we did! Can't wait till next year!
Check back for the new Pictures of the All-Stars in action at Lewis!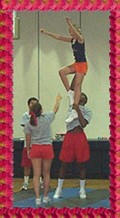 November 21, 2003
Private Clinic at Puffer School
Lewis Cheerleaders help the Panthers get ready for competition! Click on the pic for full story. "The girls worked on stunting, jumps, and a new cheer. With the help of the Lewis Cheerleaders, the girls mastered stunts they had never tried before." Thanks for the 'pub' Coach Vicki!

August 15, 2003
LU brings 'em Home!
Where to begin? The Lewis Cheerleaders returned from yet another awesome NCA Collegiate Summer Camp, hosted by the University of Michigan Cheerleaders.
Leading the team last week, were our newly appointed 2003-04 Captains: Natasha & Jenifer. The team came together and learned many new cheers, chants, game day pyramids, transitions and tons more! Not only did we come home with a wealth of new material, but we also brought home some awards!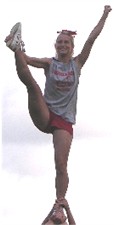 NCA All American
First of all, NCA Staff picked two All Americans from the camp! Criteria for the All American Tryouts were: a tumbling pass, including a round off back handpring full layout, a standing back tuck, a toe touch, and a extended heel stretch with a Double full down. Our Jenifer Schmidgall was one of the two! She received a certificate and the All American Medal. This award is a very prestigious award that NCA gives out. It is an all-around award. It's isn't just an awesome tumbler, it's an all around awesome, excelling cheerleading in every single area that NCA has. Staff anounced, "To be a member of NCA's Collegiate National All American Team is a very big deal and the standard is set nationwide." Congratulations, Jenifer! And to Jen's stunt group for executing the double down! Krista, Tasha, Lauren and Sarah!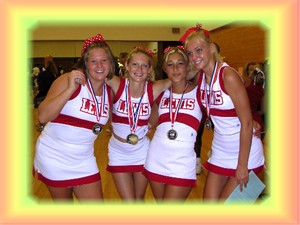 Top Gun Stunts, All-Girl Division
The night before final evals and awards, NCA conducted the Top Gun Stunt Competition. Only one co-ed partner stunt group and one all-girl group could win. Each group had to display their best skills in a 30 second stunt routine. Lewis University defeated the University of Michigan and won the Top Gun Stunt in the All Girl Division! Congratulations: Krista, Jenifer, Tasha and Lauren. A special thanks goes out to Sarah too! What a team playa, giving up your back ;-)
Most Spirited Team
The next award is a very cool award because the other teams at camp vote on it, NCA doesn't pick it! It's the Most Spirited Award. As staff stated, "It is that team that's all around out of control, looking crazy, always paying attention, always going nuts in class, always cheering everybody on and Always making a very good presence. And we'd like to congratulate our Most Spirited Team, Lewis University!"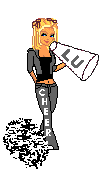 2nd Place Fight Song Competition
The first day of camp, NCA Staff taught all teams a Fight Song dance. All teams could incorporate their own two eight counts and a stunt or pyramid sequence. On the final day of camp all teams competed by Divisions in the Fight Song Competition. Lewis University was the only Division 2 school at camp, so ended up in the Division 1 category. Lewis University defeated Minnesota State University and brought home the 2nd place trophy in the Fight Song Competition.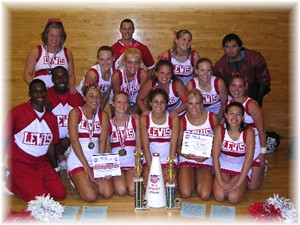 Collegiate Teamwork Award
NCA Staff put it best: "The next award goes out to a very special team. This is probably one of the coolest awards that you can win at camp. It's not who's the best, or who had the best fight song or who had the best spirit routine or anything like that. It's the Collegiate Teamwork Award and this the team that you want to be on. This is the team that loves each other, this is the team that works hard together. This is the team that encourages each other. And we as a Staff have seen this shining through and they are definitely a team like this. And we definitely want to recognize our Very Best Collegiate Teamworkers this week, Lewis University!"
Nationals Bid & Staff Recommendations
Once again, Lewis University earned a bid to compete in the 2004 NCA College Nationals held in Daytona Beach Florida. NCA staff saw something in a few team members that they thought would make great NCA staff instructors. Brandon, Ashley, Jennifer, Lauren, Jenifer and Andie were selected to tryout for NCA staff next year! Great job guys!
August 1, 2003
Updates to Lewis Cheer Team
Congratulations, Goes out to our newest additions to our family. First of all, Carla Johnson steps up as Coach. She brings years of experience and talent that will soar the team to new heights! And congrats to our new team members!
June 13, 2003
Wow! The NEWS that speaks for itself!
What's really going on . . . in cheer terms!
Beautiful O-face on Jill with Scott on her shoulders getting ready for the Double Hitch. Zorrie's got his back, while Jen's seriously ready & set to lib it up with Ashley. J-Lo, I mean, Tasha's set on the other side:-) and then Maggie & Mandie ummmm . . . got the front!!
Thanks to Br. James for sending this awesome clip to us!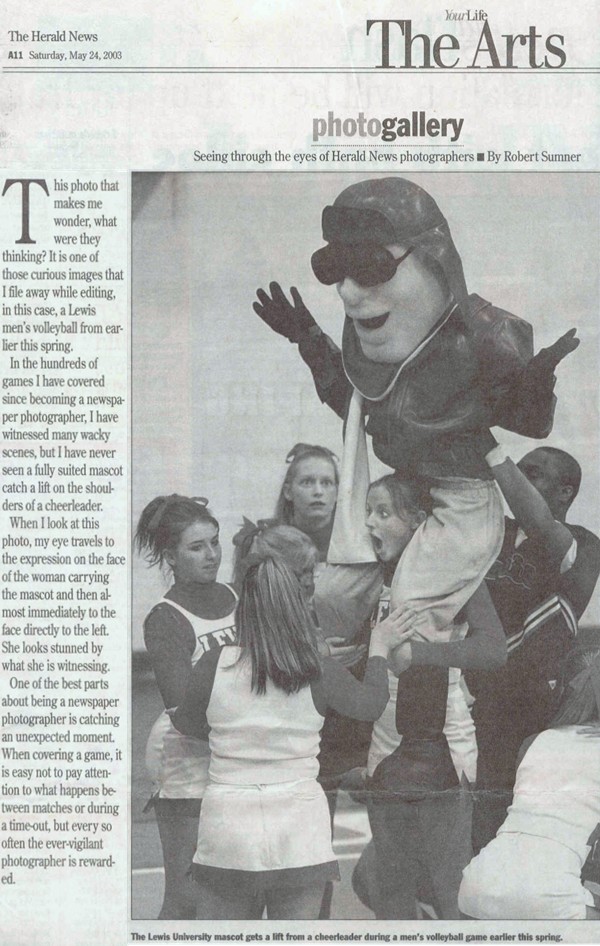 Thanks, Herald News!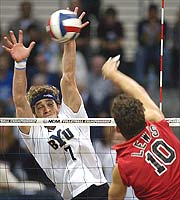 May 4, 2003
Lewis wins NCAA Volleyball Championship
Lewis University became the first Division II team to win the NCAA men's volleyball title Saturday night, beating Brigham Young University 42-44, 30-27, 30-21, 23-30, 15-13. This is the third time in the 10-year history of the program that Lewis has reached the Final Four, losing to UCLA in the semifinals the previous two trips. Way to go Dave and guys!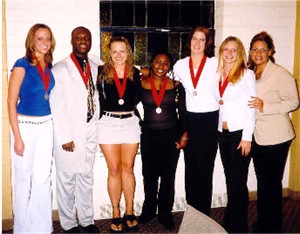 April 13, 2003 Academic Excellence!
A huge "Congratulations!" and "Way to go!" for our teammates and friends, JILL WRIGHT, ZORRIE BROWN, RALENE SCHMIDT, NIYA MORRIS, STEFANIE LEBRE and JENIFER SCHMIDGALL.

In the second year of recognitition, Lewis University Cheerleading was again included in the Delahanty Awards. Six cheerleaders were recognized in the Student Athlete Academic Awards Ceremony on April 8, 2003. Keep up the good work ladies and gentleman!

Brother David Delahanty, FSC, President of Lewis University from June 1982 until October 1987, was a devotee of physical fitness. Brother David encouraged excellence not only in the academic sphere, but also in the athletic arena. Following his untimely death, it was decided that Br. David would prefer a tribute to athletes based on their academic achievements, rather than a black band on their uniforms. Thus, the Br. David Delahanty Student Athlete Awards were established.

Medallions are awarded based on the student athlete's cumulative grade point average at the end of the fall semester of that year. The medallion breakdown is as follows: Gold 3.75-4.00 Silver 3.50-3.74 Bronze 3.25-3.49. Outstanding female and male athlete awards are awarded to the graduating senior female and male with the highest cumulative grade point average.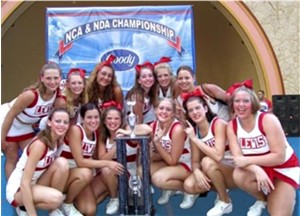 April 6, 2003
Cheerleading Champions
Lewis University Cheerleaders took the Championship and a first place trophy
at a smaller competition last weekend.
At the NCA Daytona Beach Classic, Lewis defeated Johnson & Wales University of North Miami, Florida in the Open All Star, All-Girl Division.
Way to come back, Ladies!
LU Cheerleaders Advanced to Finals!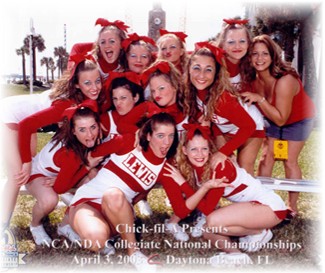 Click above pic for Press Release!
Click on Pic for full story!
April 4, 2003
Lewis University Cheerleaders
Advance to Finals at National Competition.
The Lewis University Cheerleaders participated in the annual NCA Collegiate National Championship in Daytona Beach, Florida, April 2-6, 2003.
This championship is the worlds largest collegiate cheerleading competition and attracts more than 6000 cheerleaders, dancers, mascots and spectators.
Lewis University placed eleventh in the preliminary competition out of 25 colleges competing in the All-Girl Division II competition with a score of 7.43.
The following 14 institutions advanced to the final round of competition.
Preliminary Round Results:
1- Kennesaw State University, GA 8.55
2- Framingham State University, MA 8.37
3- Univ. of Massachusetts Dartmouth, MA 8.29
4- Salem State College, MA 8.21
5- Assumption College, MA 8.02
6- Univ. of Central Oklahoma, OK 8.01
7- Valdosta State University, GA 7.82
8- Slippery Rock University, PA 7.79
9- Elmira College, NY 7.78
10- University of St. Francis, IL 7.74
11- Lewis University, IL 7.43
12- Univ. of Pittsburgh @ Johnstown, PA 7.39
13- Eastern State College, OK 7.30
North Central College, IL 7.30
--------------------------------------------------------------------------------------------------
14- College of St. Rose, NY 7.23
15- Weatherford College, TX 7.12
16- New York University, NY 7.11
17- Wilmington College, DE 7.10
18- Columbus State Comm. College, OH 7.04
19- Southern New Hampshire University, NH 6.9
Illinois Wesleyan College, IL 6.9
20- Graceland University, IA 6.44
21- Florida Gulf Coast University, FL 6.18
22- Antelope Valley Junior College, CA 5.87
23- Castleton College, VT - ???
Finals, well that's another story! Have you ever dropped stuff that NEVER drops?! I mean those easy stunts that you hit all the time . . . Well, I guess the sun was in our eyes that day! We did come home with a fourteenth place trophy and a score of 7.07 - ewwwww!
We sure did have fun at Finals our first year!
Visit http://www.nationalspirit.com for all scores!